CORNEAL TRANSPLANT SURGERY
Corneal transplantation is a surgery in which healthy corneal tissue from a donor is used to replace a sick cornea and restore vision. First, the cloudy cornea is removed. Then, a clear, healthy cornea from a donor is put in its place and stitched on.
With the improvement of technology, there are now other ways to replace a diseased or scarred cornea other than with the common surgical approach like Penetrating Keratoplasty, also known as full-thickness corneal transplantation.
We are specialists in the following cornea transplantation methods in Singapore:
Lamellar (Partial) Keratoplasty
Anterior Lamellar Keratoplasty
Posterior Lamellar Keratoplasty / Endothelial Keratoplasty
1 /

Lamellar (Partial) Keratoplasty
Lamellar (Partial) Keratoplasty involves the replacing of only the diseased parts of the cornea, as long as the disease has not spread to all of the cornea's layers.
Benefits of Lamellar (Partial) Keratoplasty
2 /

Anterior Lamellar Keratoplasty
Anterior Lamellar Keratoplasty is performed on those who have conditions affecting the upper section of the cornea, such as:
Anterior scars

Anterior dystrophies

Keratoconus

Infectious keratitis
Benefits of Anterior Lamellar Keratoplasty
3 /

Posterior Lamellar Keratoplasty/Endothelial Keratoplasty
Only the innermost layer of the cornea (endothelium) may be replaced in corneal diseases affecting the endothelium.
Posterior Lamellar Keratoplasty/Endothelial Keratoplasty is performed on those suffering from degenerative conditions such as:
Fuch's endothelial dystrophy

Bullous keratopathy
Descemet's stripping automated endothelial keratoplasty (DSAEK) is used where smaller incisions are used during the surgery. The corneal graft can also be secured without the use of stitches.
Benefits of Posterior Lamellar Keratoplasty/Endothelial Keratoplasty
If a substantial cataract (cloudy lens) exists, it may be removed during the corneal transplant procedure and an intraocular lens implanted.
In most cases, first-time corneal transplants can be performed with no oral immunosuppression; only eyedrop medication is needed. In contrast to other types of organ transplantation, corneal transplantation can be performed multiple times if prior transplants fail. The success rate of repeat transplants, however, decreases with each transplant, and anti-rejection tablets may be used to prevent graft rejection in subsequent transplants.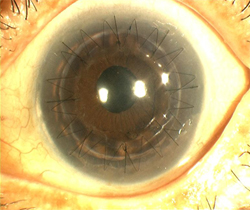 ARTIFICIAL CORNEA TRANSPLANT
An artificial corneal transplant is an alternate treatment for eyes that have undergone many failed corneal transplants or eyes with complicated cornea and ocular surface problems. The Boston Keratoprosthesis is a well-established artificial corneal transplant in the world today.
Boston Keratoprosthesis (KPro)
The Boston KPro is an artificial cornea made of clear plastic with tissue tolerance and optical qualities. The Boston KPro can now successfully treat even the most difficult corneal disorders and blinding cornea conditions.
In those with severe blinding corneal disorders, the Boston KPro implantation may be the best possible option for recovering long-term vision.
Dr Leonard Ang, the Medical Director and Senior Consultant Ophthalmologist at Lang Eye Centre, is known for treating a wide range of cornea conditions, including severe blinding cornea conditions. Having completed his specialist training in Singapore, he went on to complete advanced training fellowships in cornea and refractive surgery and trained with established cornea and refractive surgeons and stem cell experts at prestigious eye centres around the world, including the University of Pennsylvania School of Medicine in the USA, the Kyoto Prefectural University of Medicine in Japan, and the Massachusetts Eye and Ear Infirmary (MEEI), Harvard Medical School in the USA. Read more about Dr Ang here.